A study of the inspiration and limitation of words, the corrupting influence of power, and the dangers of charisma ­­— Independent
The Black Coat

This intense tale, told by a born storyteller, is further animated by humour as dark as the iconic outerwear that gives the novel its title. The tortured origins of modern Bangladesh are brought to life vividly, and provide a poignant backdrop to a central drama that Dostoyevsky and Kafka would have applauded. —  Garnet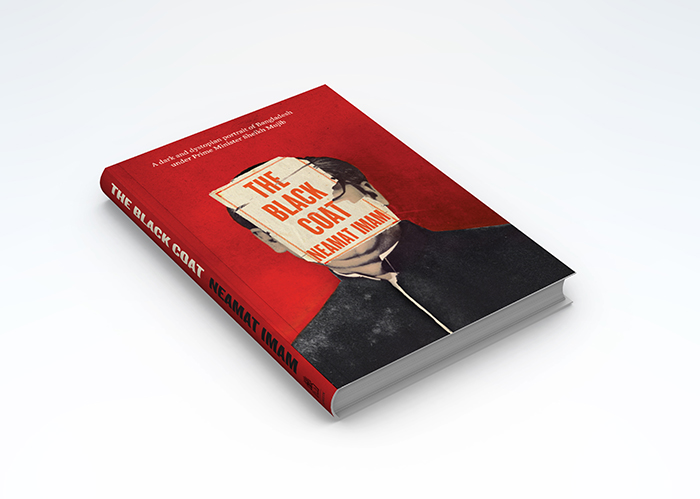 The Black Coat is online available from:
Penguin India | Waterstones | Amazon UK | Amazon Canada | Amazon USA | Chapters Indigo | Flipkart | Barnes & Noble | Kobo | Kindle | Books-A-Million
Mark The Black Coat as "Want to Read" on Goodreads.
In the aftermath of Bangladesh's bloody war of independence in 1971, as thousands of migrants from the countryside flood the capital, journalist Khaleque Biswas begins to feel the stirrings of disillusionment. The revolutionary spirit that had filled the air and united the people under the leadership of Sheikh Mujib, the "Father of the Nation", seems to be dissipating. The government's response to the crisis is inadequate, and the country's slow slide into political corruption seems inevitable.
Uncompromising and undiplomatic, Khaleque soon loses his job. Then Nur Hussain turns up: a simple young man from a remote village, his welfare has been entrusted to Khaleque by a passing acquaintance. Unable to turn Nur away, Khaleque sets out to secure him a job, but discovers that the placid fellow has no skills whatsoever, nor much ambition. He seems adept only at impersonating Sheikh Mujib, to whom he bears some resemblance – and as the masses flock to him, the authorities take notice …
Quill & Quire, the magazine of the Canadian book trade, reviews The Black Coat
The Black Coat was published in India by Penguin Books in 2013. It was published in UK by Garnet in 2015, and in Canada, by Garnet in association with Publishers Group Canada in 2016.
Publisher's page: Penguin Books India
Publication Information
Formats: Hardcover / Paperback
Hardcover ISBN-13: 978-0670086658
Hardcover: 240 pages
Paperback ISBN-13: 978-1859640067
Paperback: 340 pages
Neamat Imam's Work in Bengali

Paravarti Drishya (Play; Bangla Academy: 1996)
Elephant Road (Novella; Osaca: 1997)
Boidik (Novella; Sandesh: 1999)
Nispriho Nishshoron (Play: Quarterly Uttaradhikar: 1993)
Amaar Rashtro Amaar Nagorik (Poetry; Adorsho: 2010)